Sogestran Sailing Team
Normandy Elite Team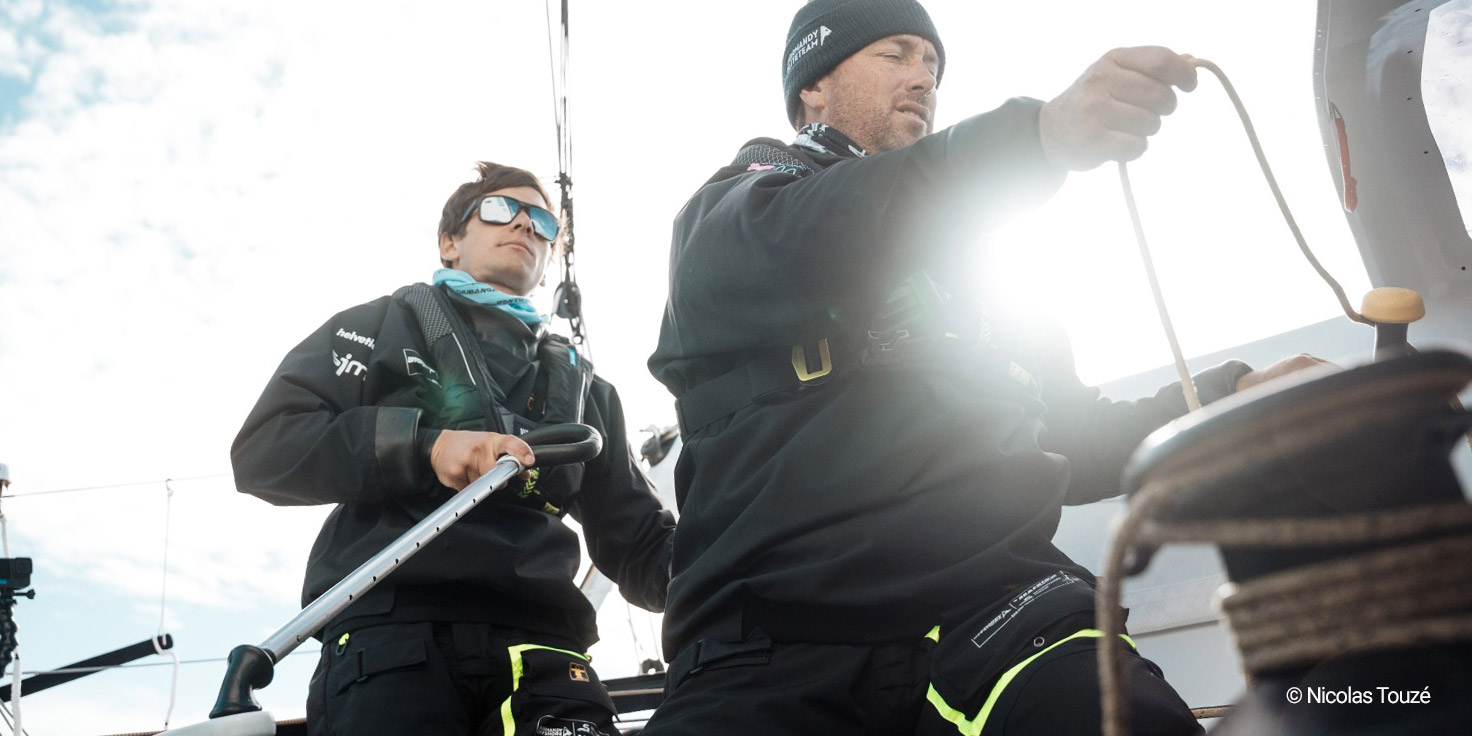 Sogestran is a partner of the Normandy Elite Team

Since 2013, the Sogestran group has been backing a group of top-level sailors: the Normandy Elite Team. Its objective is to support exceptional young Norman sailors in ambitious sporting projects such as Olympism, match racing or ocean racing.
This partnership with the Normandy Elite Team is fully in line with Sogestran's DNA, whose crews sail on fresh and salt waters and whose values of excellence and expertise, which are conveyed by Olympism, match racing and single-handed or crewed ocean racing, are also the driving force behind its growth.
As an icing on the cake, these athletes are ambassadors for Normandy around the world, and that's a good thing, because Sogestran is a family group, deeply attached to its roots in Le Havre!
CAFE Project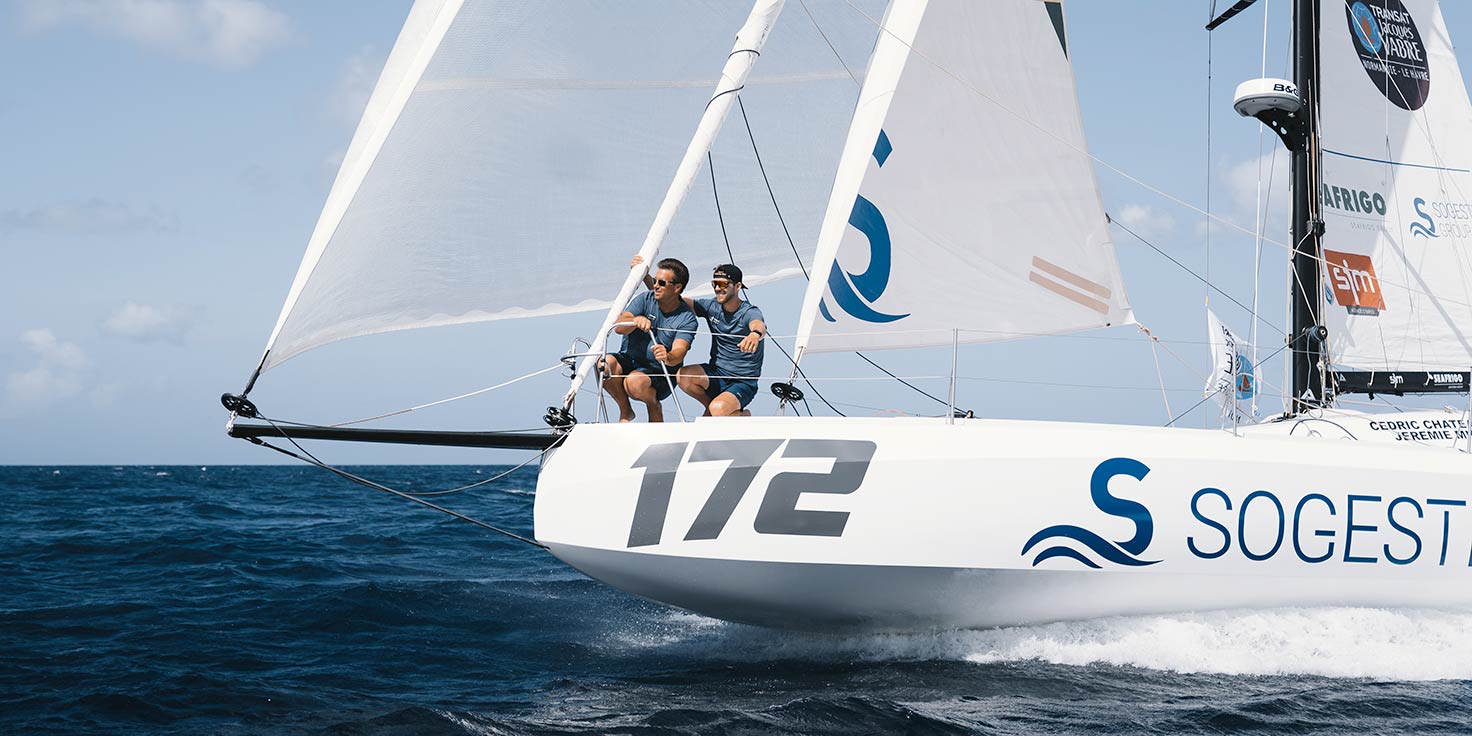 Transat Jacques Vabre 2021 on the Sogestran-Seafrigo Class40

In May 2021, following its partnership with the Normandy Elite Team, the Sogestran group decided to commit itself alongside Jérémie Mion, to support this young athlete from the Normandy Elite Team in his high-level progression and to enable him to take the step from Olympic sailing to ocean racing.
Jérémie is World and European Champion in 470 and participated in the Rio and Tokyo Olympic Games. Since the summer of 2022, he has been involved in Olympic preparation with the aim of obtaining a medal at the Paris 2024 Games. To that end, he has teamed up with Camille Lecointre, bronze medallist at the Rio and Tokyo Games in 470.
Who better to coach this transition than Cédric Château, an ocean racer, director of the Normandy Elite Team and the Pôle Espoir Voile, but also Jérémie's coach when he started in Le Havre?
Together they entered the Transat Jacques Vabre 2021 on the Sogestran-Seafrigo Class40 and finished in a magnificent third position.
This project was named CAFE. A French word and aromas that resonate strongly with the people of Le Havre and their Transat Jacques Vabre, and which summarise the Group's values: Confiance - Agilité - Fierté - Engagement — Confidence - Agility - Pride - Commitment.
Normandy Offshore Program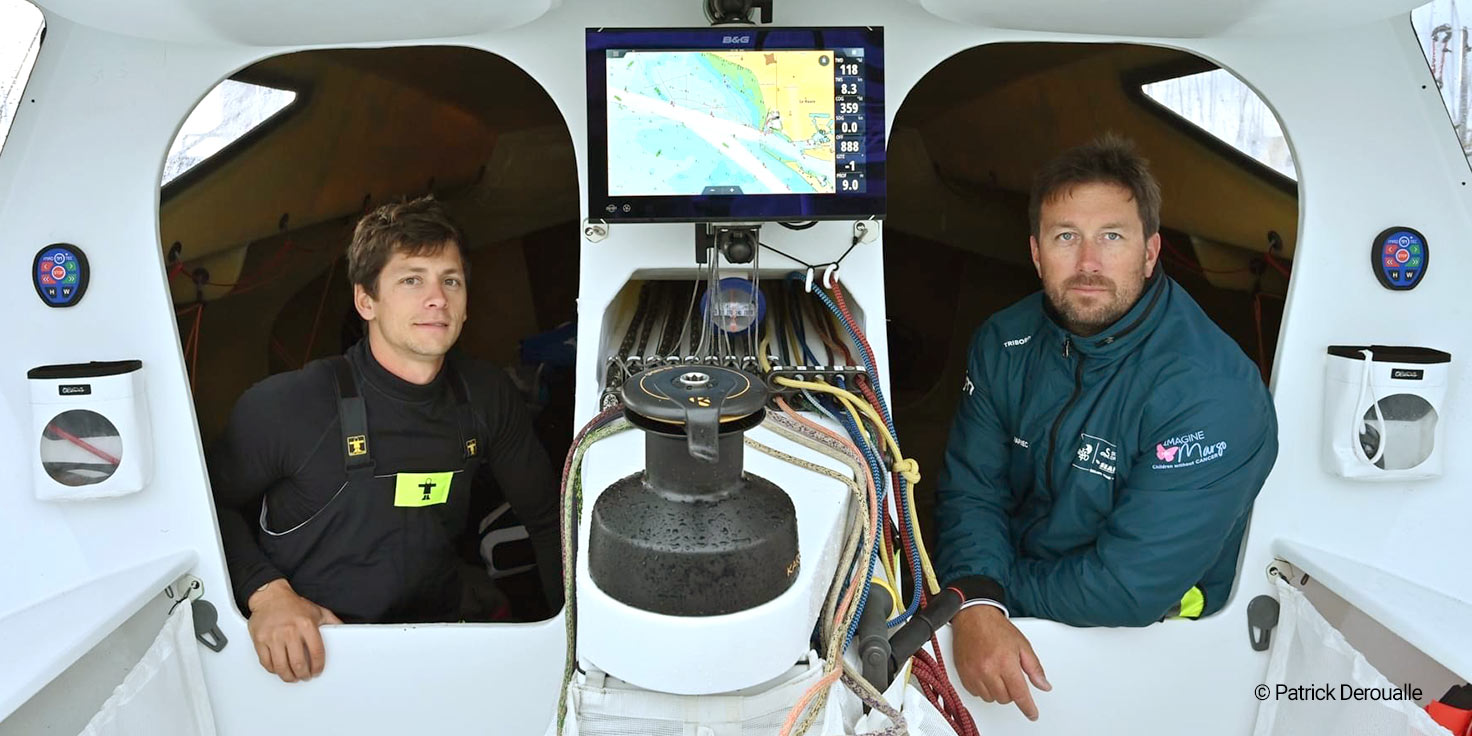 Talent incubator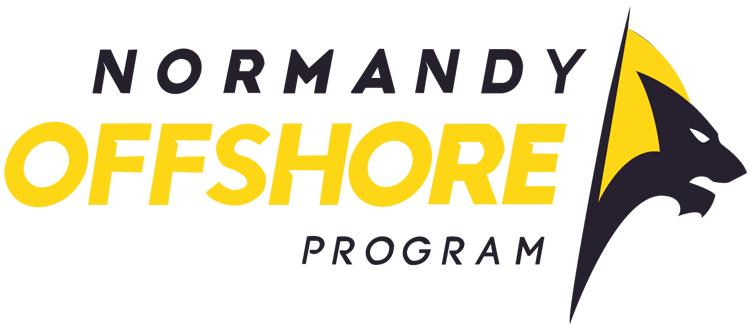 Since 2013, the Normandy Elite Team brings together and supports the best sailors in Normandy.
This team and its club of partners stand out on the world stage, with the following achievements:
2018 World Champions in Olympic Sailing,
Participation in the 2016 and 2020 Olympic Games,
Second position in the 2021 Vendée Globe,
World Champions in Duel 2021,
Second and third positions in the Transat Jacques Vabre 2021,
Second position in the 2022 Figaro Race.
However, too many high-potential Norman sailors remain at the quayside, as it is so difficult for them to convince partners in the early stages of their careers.
Sogestran and Seafrigo, both international groups but established and involved in Normandy, are keen to enable young talents to enter the world of competition and to give them the opportunity to show their potentials.
Therefore, in collaboration with the Normandy Elite Team, Sogestran and Seafrigo decided in 2022 to launch a talent incubator program to enable young sailors to launch themselves into ocean racing and created the Normandy Offshore Program.
It allows the CAFE project to take root over time, reinforcing Sogestran's commitment to the values of competitiveness, work, team spirit, personal challenge and success.
As part of this program, Cedric will complete Jeremie's training after the 2024 Olympic Games to enable him to in turn train a young talent selected by a jury.
Program
2022
MAY
Normandy Channel Race
Cédric + 1 youngster
JULY
Drheam Cup Qualification
RDR Cédric
SEPTEMBER
Malouine 40
Cédric solo + Clients
NOVEMBER
Route du Rhum
Cédric solo
2023
MAY
Normandy Channel Race
Cédric + Jérémie
JULY
Les Sables-Horta
Cédric + 1 or 2 youngsters
AUGUST
The Fastnet
Cédric + 1 youngster + 2 clients
NOVEMBER
Jacques Vabre
Cédric + Jérémie
2024
MAY
English Transat (Brest-USA)
Cédric solo
JULY
Quebec-St Malo
Cédric + 3 youngsters or clients
SEPTEMBER
Normandy Channel Race
Jérémie + 1 youngster
2025
MAY
Normandy Channel Race
Jérémie + 1 youngster
JULY
Les Sables-Horta
Jérémie + 1 or 2 youngsters
AUGUST
The Fastnet
Jérémie + 1 youngster + 2 clients
NOVEMBER
Jacques Vabre
Jérémie + young talent