Official inauguration of the scheduled FlexiLoire river service line
May 3rd, 2018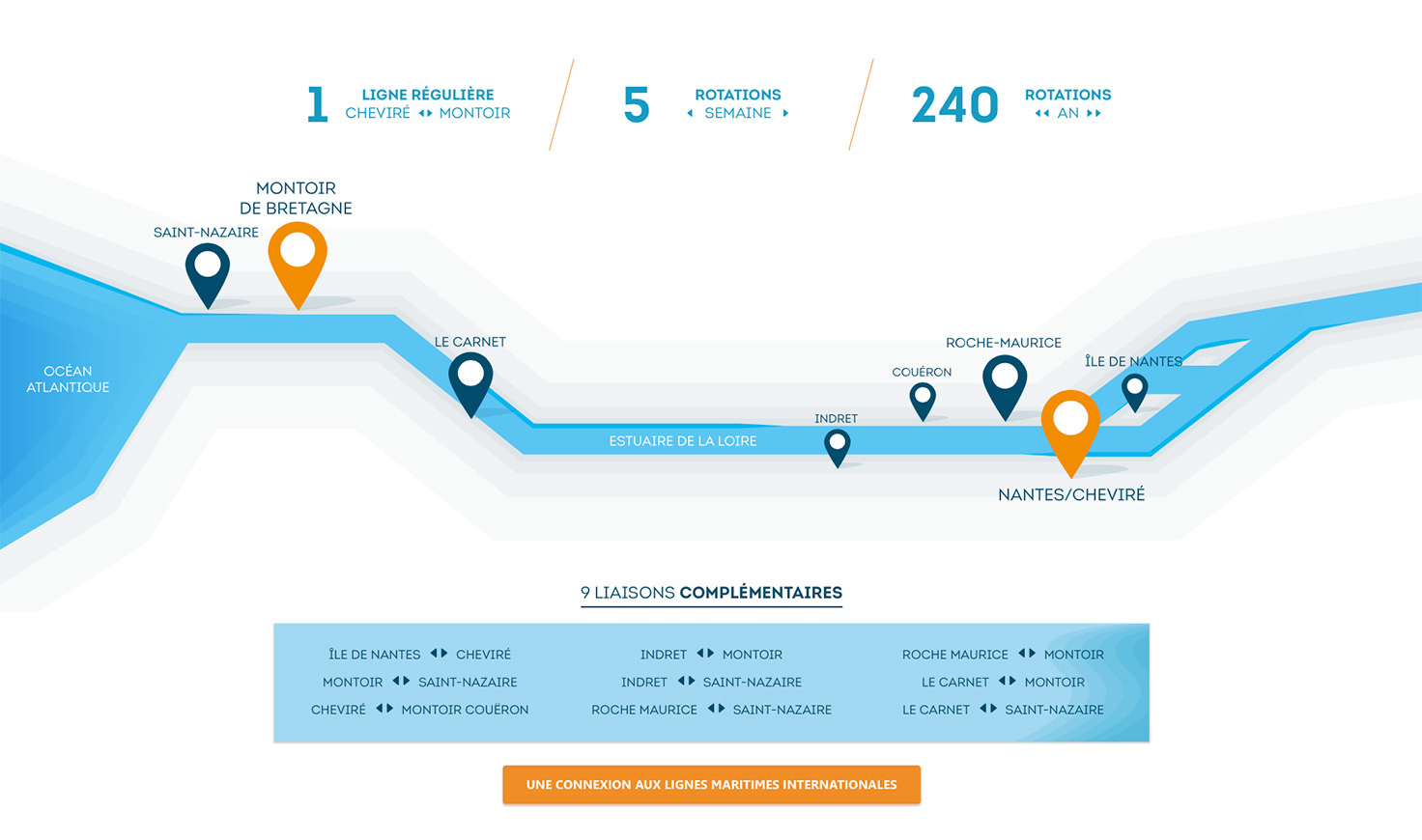 FlexiLoire multi-site and multi-line waterway service was inaugurated the 18th of April 2018 in the presence of representatives from the commission group at the origin of its creation - Nantes Métropole, Saint-Nazaire Agglomeration CARENE and Nantes Saint-Nazaire Port - and the operator, Compagnie Ligérienne de Transport.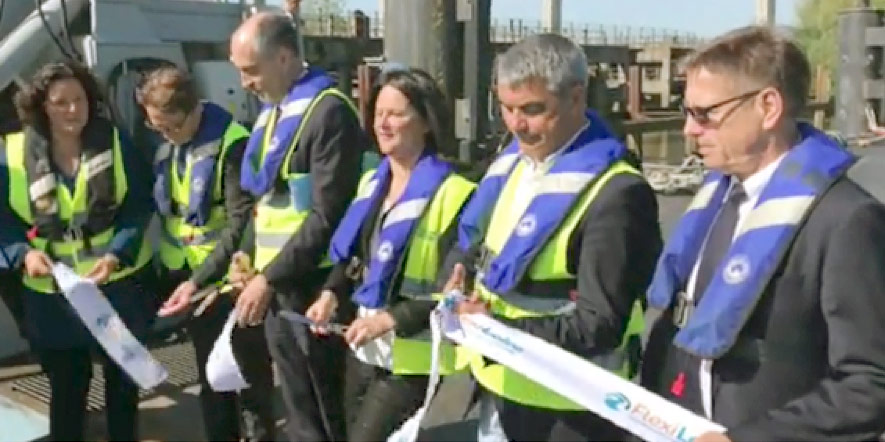 Since early January, from Monday to Saturday, the navigation teams have been working on the push-convoy + the Jules Verne barge to accompany CLT organizations and the operation of future development projects under the FlexiLoire banner.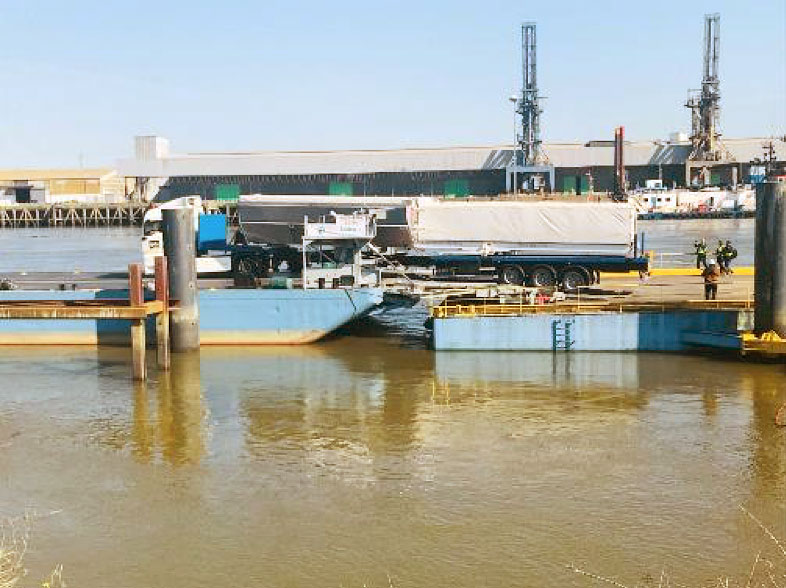 FlexiLoire's innovation consists of a service offer that is designed as a scheduled line with a daily planning. The offer is aimed at all shippers in the region, whether they have recurring transportation needs or spot requirements.
Airbus, a CLT customer since 2003 under a dedicated travel logistics organization, is the first shipper to support the creation of FlexiLoire based on its confidence in the teams. Airbus integrates into its supply chain, a modal shift towards inland navigation with a significant volume commitment over the next 5 years.
For the largest potential shippers on the Loire, the FlexiLoire service will satisfy their expectations and needs in terms of different transport offers. CLT, also in charge of marketing, must now convince them of the flexibility, adaptability and real fluidity of inland navigation so that this mode of transport becomes a reflex in the drafting of specification and quotation requests.
> Consult FlexiLoire website (French language)
Other news from the group
| | | |
| --- | --- | --- |
| November 28th, 2023 | 28.11.23 | [Video] The maritime activity of the Sogestran Group |
| October 20th, 2023 | 20.10.23 | An urban river logistics solution right in the heart of Paris |
| July 11th, 2023 | 11.07.23 | Europe's largest inland waterway LNG bunker barge, owned by LNG Shipping and chartered by Shell, hits the water |
| July 3rd, 2023 | 03.07.23 | Publication of the 2022 CSR report |
| March 14th, 2023 | 14.03.23 | Keel laying of 8000 m3 inland LNG bunker barge owned and operated by LNG Shipping, chartered by Shell |
| February 2nd, 2023 | 02.02.23 | OCEOS launches its website |
| December 8th, 2022 | 08.12.22 | Transport of two satellite containers by the MN Colibri |
| September 13th, 2022 | 13.09.22 | Air Liquide and Sogestran form the joint venture OCEOS for CO2 shipping and barging |
| September 8th, 2022 | 08.09.22 | Delivery of the POINTE DE CAUX |
| June 20th, 2022 | 20.06.22 | De Poli becomes NAVQUIM under Sogestran management |
| April 5th, 2022 | 05.04.22 | Air Liquide and Sogestran partner to develop shipping solutions for carbon management |
| April 1st, 2022 | 01.04.22 | Launch of the POINTE DE CAUX |
| July 21st, 2021 | 21.07.21 | Jérémie Mion meets the Sogestran group's teams |
| July 15th, 2021 | 15.07.21 | Dubbelman and Sogestran Sign Definitive Acquisition Agreement to Integrate Dubbelman Group in Sogestran Logistics |
| June 23rd, 2021 | 23.06.21 | Sogestran group welcomes Jérémie Mion on board |
| November 26th, 2020 | 26.11.20 | Sogestran invests in the chemical tankers business |
| February 4th, 2020 | 04.02.20 | The Sogestran group and the COMPAGNIE MARITIME NANTAISE - MN associate with NEOLINE. |
| June 24th, 2019 | 24.06.19 | 'LNG London' bunker vessel begins operations in Europe |
| October 22nd, 2018 | 22.10.18 | The Sogestran Group inaugurates an office in French Guiana |
| October 4th, 2018 | 04.10.18 | The Sogestran Group in video |
| July 3rd, 2018 | 03.07.18 | Intermodal transport within the Group is evolving |
| June 8th, 2018 | 08.06.18 | Nord Ports Shuttle launches a new service |
| March 6th, 2018 | 06.03.18 | The Pontias under construction |
| December 8th, 2017 | 08.12.17 | An environmental trophy awarded to CFT for its fluvial fleet |
| October 17th, 2017 | 17.10.17 | Inauguration ceremony of the Mayoury |
| September 29th, 2017 | 29.09.17 | Inauguration of the largest French Roll-on / Roll-off ramp |
| August 8th, 2017 | 08.08.17 | Inland navigation: directly from the ship to the barge |
| July 26th, 2017 | 26.07.17 | Arianespace package transfer |
| June 28th, 2017 | 28.06.17 | Acquisition by Sogestran of Compagnie Maritime Nantaise (MN) |
| June 2nd, 2017 | 02.06.17 | LNG (Liquefied Natural Gas) - The Group innovates for the future |
| April 15th, 2017 | 15.04.17 | Double rotation of transformers, 278 tonnes each |
| October 20th, 2016 | 20.10.16 | Lapresta's first loading at the Total refinery in Antwerp |