Sogestran invests in the chemical tankers business
November 26th, 2020
Sogestran Group invests in De Poli Tankers to jointly acquire Team Tankers's European-based chemical tanker business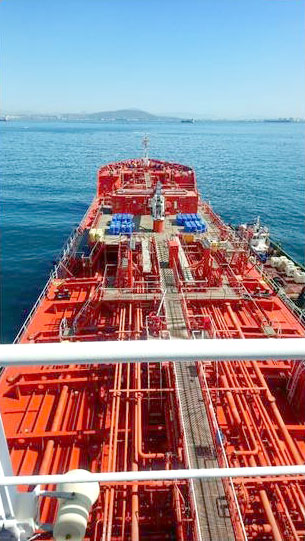 We are pleased to announce that Sogestran Group ('Sogestran') has agreed to acquire a majority participation in De Poli Tankers Holding B.V. ('De Poli Tankers Group'), an integrated chemical tanker company based in Barendrecht, the Netherlands. The existing top management of De Poli Tankers Group will continue in their existing roles and lead the day to day operations.
De Poli Tankers Group owns and operates a fleet of eight chemical tankers, transporting a wide range of chemical products and providing value-added services according to the highest industry standards and regulations with flexibility and transparency.
De Poli Tankers Group has used the proceeds of this transaction to complete the acquisition of the European-based chemical tanker business from Team Tankers International Ltd. ('TTI'). The acquisition includes seven 8,000 DWT chemical stainless-steel parcel tankers and the entire organisation of Team Tankers in Marbella, Spain. De Poli Tankers Group will also commercially manage three chemical tankers for TTI for a limited period.
De Poli Tankers Group will combine the acquired TTI business with its own fleet and will continue to service the existing contracts. All parties are convinced that the fleets, the geographical trading areas and the type of trades are highly complementary and as such, will provide valuable synergies and further improve service levels to all their existing clients.
TTI is a leading tanker company committed to providing safe, reliable and incident-free transport services to its worldwide customer base. It transports a wide variety of cargos including organic and non-organic chemicals, petroleum products, vegetable oils and lube oils.
Sogestran is organized into four main business lines:
Maritime with a fleet of c.20 vessels operating in the Mediterranean, Indian Ocean, West Africa, Caribbean, French Guyana, Polynesia and Pacific Ocean, which will be the parent business line of De Poli Tankers Group and the acquired Team Tankers business
Fluvial with over 160 units operating in the Rhone, Seine, Loire, Donau, Rhine rivers
Multimodal with transport of containers in France, Belgium and Netherlands by barge combined with train and truck
Services in the Port of Le Havre with storage of conditioned hazardous goods
Gottengreen (France) acted as M&A advisor to Sogestran. JBR Corporate Finance (the Netherlands) and Crédit Agricole Corporate and Investment Bank (France) acted as M&A advisors to De Poli Tankers Group. Stephens Europe Limited and Socios Financieros S.A. acted as M&A advisors to TTI.
The transaction closed on the [25th] of November 2020.
The Board of Directors
Sogestran Group
Le Havre, France

The Board of Directors
Team Tankers International Ltd.
Hamilton, Bermudes

The Board of Directors
De Poli Tankers Holding B.V.
Barendrecht, Pays-Bas
___________________________________
For further information please contact:
Other news from the group
| | | |
| --- | --- | --- |
| November 28th, 2023 | 28.11.23 | [Video] The maritime activity of the Sogestran Group |
| October 20th, 2023 | 20.10.23 | An urban river logistics solution right in the heart of Paris |
| July 11th, 2023 | 11.07.23 | Europe's largest inland waterway LNG bunker barge, owned by LNG Shipping and chartered by Shell, hits the water |
| July 3rd, 2023 | 03.07.23 | Publication of the 2022 CSR report |
| March 14th, 2023 | 14.03.23 | Keel laying of 8000 m3 inland LNG bunker barge owned and operated by LNG Shipping, chartered by Shell |
| February 2nd, 2023 | 02.02.23 | OCEOS launches its website |
| December 8th, 2022 | 08.12.22 | Transport of two satellite containers by the MN Colibri |
| September 13th, 2022 | 13.09.22 | Air Liquide and Sogestran form the joint venture OCEOS for CO2 shipping and barging |
| September 8th, 2022 | 08.09.22 | Delivery of the POINTE DE CAUX |
| June 20th, 2022 | 20.06.22 | De Poli becomes NAVQUIM under Sogestran management |
| April 5th, 2022 | 05.04.22 | Air Liquide and Sogestran partner to develop shipping solutions for carbon management |
| April 1st, 2022 | 01.04.22 | Launch of the POINTE DE CAUX |
| July 21st, 2021 | 21.07.21 | Jérémie Mion meets the Sogestran group's teams |
| July 15th, 2021 | 15.07.21 | Dubbelman and Sogestran Sign Definitive Acquisition Agreement to Integrate Dubbelman Group in Sogestran Logistics |
| June 23rd, 2021 | 23.06.21 | Sogestran group welcomes Jérémie Mion on board |
| February 4th, 2020 | 04.02.20 | The Sogestran group and the COMPAGNIE MARITIME NANTAISE - MN associate with NEOLINE. |
| June 24th, 2019 | 24.06.19 | 'LNG London' bunker vessel begins operations in Europe |
| October 22nd, 2018 | 22.10.18 | The Sogestran Group inaugurates an office in French Guiana |
| October 4th, 2018 | 04.10.18 | The Sogestran Group in video |
| July 3rd, 2018 | 03.07.18 | Intermodal transport within the Group is evolving |
| June 8th, 2018 | 08.06.18 | Nord Ports Shuttle launches a new service |
| May 3rd, 2018 | 03.05.18 | Official inauguration of the scheduled FlexiLoire river service line |
| March 6th, 2018 | 06.03.18 | The Pontias under construction |
| December 8th, 2017 | 08.12.17 | An environmental trophy awarded to CFT for its fluvial fleet |
| October 17th, 2017 | 17.10.17 | Inauguration ceremony of the Mayoury |
| September 29th, 2017 | 29.09.17 | Inauguration of the largest French Roll-on / Roll-off ramp |
| August 8th, 2017 | 08.08.17 | Inland navigation: directly from the ship to the barge |
| July 26th, 2017 | 26.07.17 | Arianespace package transfer |
| June 28th, 2017 | 28.06.17 | Acquisition by Sogestran of Compagnie Maritime Nantaise (MN) |
| June 2nd, 2017 | 02.06.17 | LNG (Liquefied Natural Gas) - The Group innovates for the future |
| April 15th, 2017 | 15.04.17 | Double rotation of transformers, 278 tonnes each |
| October 20th, 2016 | 20.10.16 | Lapresta's first loading at the Total refinery in Antwerp |