An urban river logistics solution right in the heart of Paris
October 20th, 2023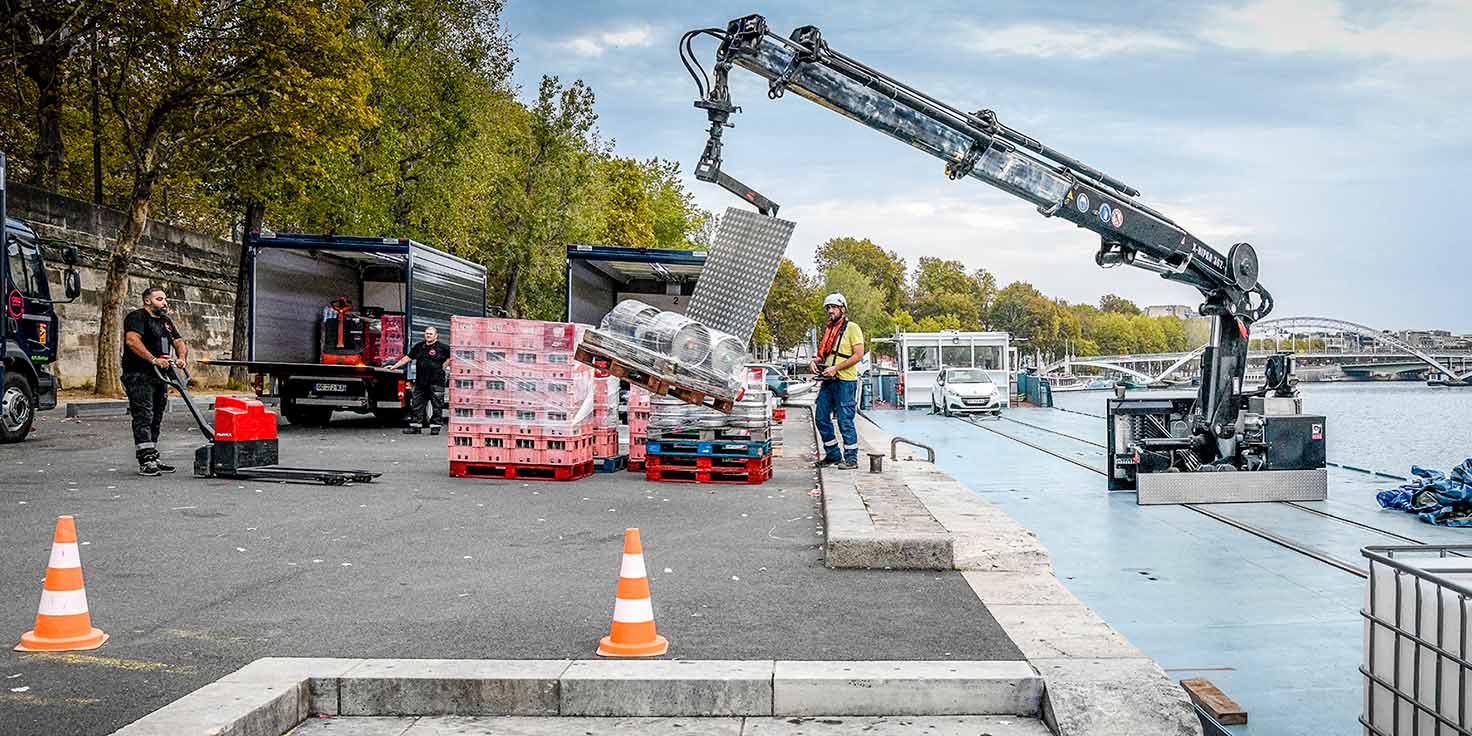 Since June 2023, OBD Grand Paris and Sogestran Logistics have been operating a new logistics solution to allow beverages delivery vehicle reloading right in the heart of the nation's capital
Sogestran Logistics has been making scheduled trips via the river to allow OBD Grand Paris vehicles to be reloaded for the delivery of beverage products to Paris cafés, hotels and restaurants. The vehicles are reloaded on the mixed-use dock at Debilly port, located opposite the Eiffel Tower. This solution has received support from the French waterways authority – Voies Navigables de France (VNF) – and HAROPA PORT, which is using its port network to develop end-to-end decarbonised logistics chains.
For OBD Grand Paris, an independent leader in the beverages distribution sector in Paris and its surrounding region with a focus on cafés, hotels and restaurants, this trial stems from a determination to implement more sustainable solutions for urban logistics to address the issues surrounding decarbonisation as well as the need to reduce city traffic. As a major actor in reverse logistics (twothirds of the volume handled by OBD Grand Paris consists of returnable containers), it is also using this test programme to anticipate urban logistics needs for the 2024 Olympics.
Using its teams and urban river logistics expertise, Sogestran Logistics has chartered its ZULU 03 selfpropelled barge for twice-weekly runs between Gennevilliers and Debilly ports to reload OBD Grand Paris vehicles.
This Seine-based truck reloading process allows road traffic to be reduced between central Paris and logistics facilities out in the suburbs.
According to their usual delivery rounds, OBD Grand Paris vehicles finish their first Paris delivery run between 8 and 10 a.m. If there is a need to make a second run, they are obliged to make road trips during rush hours between central Paris and the logistics storage site outside the city.
They can therefore avoid these round trips by reloading at the barge waiting for them in the heart of Paris. In this way, river-based logistics make the logistics process considerably more efficient. This in turn means fewer vehicles on the roads, savings of precious time and easier working for the delivery drivers.
Multiple benefits
For Pascal Clément, director of OBD Grand Paris: "The benefits go beyond the purely environmental. This solution helps enhance customer satisfaction (thanks to greater control of the timing of deliveries) and improves the working conditions of the delivery drivers (by cuAng the hours spent driving). This also allows us to address to some extent the issue of recruitment in a sector subject to very tight labour supply."
A city-centre logistics solution allowing shared use of port docks
For Alexis Chapolard, Director, France, at Blue Line Logistics, a subsidiary of Sogestran Logistics: "One of the advantages of ZULU03 is that it has a crane on board that allows it to operate independently since it needs no dockside equipment. Once a delivery has been completed, the dock becomes available once again for other users. In the future, for the purposes of mass goods transit, Sogestran Logistics will have the benefit of availability of Debilly dock for several hours a day."
Decarbonised urban river logistics
For Antoine Berbain, deputy general manager of HAROPA PORT: "Alongside OBD Grand Paris and Sogestran Logistics, we are extremely pleased with this urban logistics trial involving a new category of goods. We are ready to make this service permanent from 2024, especially with the Olympic and Paralympic Games in mind, starting out from the Gennevilliers multimodal facility and going to the urban ports on the Paris sector of the Seine – not only Debilly, but also Austerlitz – helping in this way to limit road congestion and CO2 emissions."
Some statistics
170 pallets of beverages and 120 pallets of returns (empty bottles and drums) have been carried during the trial as a whole, on the basis of two trips per week (Tuesday and Friday).
An adjustment phase was needed at the start of the operation, involving transportation of limited quantities of goods. More substantial volumes have been achieved.
The vehicle reloading process in detail
On the evening of D-1, delivery of the pallets by OBD Grand Paris to Sogestran Logistics at Gennevilliers port.
On the morning of D0, departure of the loaded OBD Grand Paris trucks from their warehouses, headed for an initial delivery round in Paris.
On completion of this first run, they return to the barge in central Paris to unload the returns collected from cafés and take on the goods they need for their second delivery round.
This means that the vehicle and its driver carry out a second delivery run without having to return to their warehouse outside Paris (at Villeneuve la Garenne). In this way, valuable kilometres of driving time during city rush hours are avoided.
In some cases, vehicles have been able to make three morning delivery runs by reloading at the barge.
The ZULU03 and its crew take over from each vehicle the returnable empty containers collected from the customers of OBD Grand Paris.
This project is supported by local government committed to the development of urban river logistics as part of the partnership agreement between HAROPA PORT and Paris City Authority, along with the call for declarations of interest issued with the Greater Paris authority in order to help projects emerge, plus support for experimental operations in the Greater Paris region from the assistance for modal transfer provided by the French waterways authority (VNF).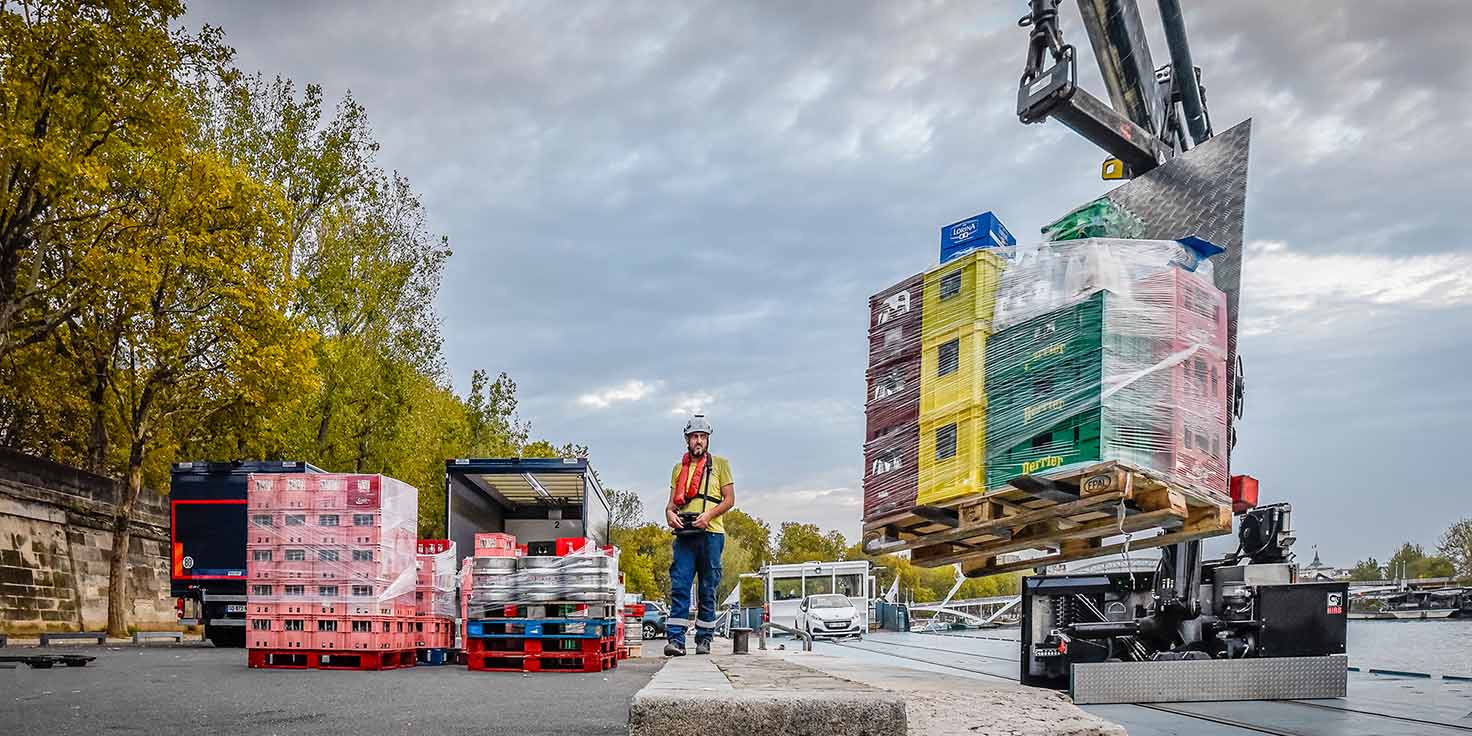 > Press release Grand Paris / Sogestran Logistics / Haropa Port
Other news from the group
| | | |
| --- | --- | --- |
| November 28th, 2023 | 28.11.23 | [Video] The maritime activity of the Sogestran Group |
| July 11th, 2023 | 11.07.23 | Europe's largest inland waterway LNG bunker barge, owned by LNG Shipping and chartered by Shell, hits the water |
| July 3rd, 2023 | 03.07.23 | Publication of the 2022 CSR report |
| March 14th, 2023 | 14.03.23 | Keel laying of 8000 m3 inland LNG bunker barge owned and operated by LNG Shipping, chartered by Shell |
| February 2nd, 2023 | 02.02.23 | OCEOS launches its website |
| December 8th, 2022 | 08.12.22 | Transport of two satellite containers by the MN Colibri |
| September 13th, 2022 | 13.09.22 | Air Liquide and Sogestran form the joint venture OCEOS for CO2 shipping and barging |
| September 8th, 2022 | 08.09.22 | Delivery of the POINTE DE CAUX |
| June 20th, 2022 | 20.06.22 | De Poli becomes NAVQUIM under Sogestran management |
| April 5th, 2022 | 05.04.22 | Air Liquide and Sogestran partner to develop shipping solutions for carbon management |
| April 1st, 2022 | 01.04.22 | Launch of the POINTE DE CAUX |
| July 21st, 2021 | 21.07.21 | Jérémie Mion meets the Sogestran group's teams |
| July 15th, 2021 | 15.07.21 | Dubbelman and Sogestran Sign Definitive Acquisition Agreement to Integrate Dubbelman Group in Sogestran Logistics |
| June 23rd, 2021 | 23.06.21 | Sogestran group welcomes Jérémie Mion on board |
| November 26th, 2020 | 26.11.20 | Sogestran invests in the chemical tankers business |
| February 4th, 2020 | 04.02.20 | The Sogestran group and the COMPAGNIE MARITIME NANTAISE - MN associate with NEOLINE. |
| June 24th, 2019 | 24.06.19 | 'LNG London' bunker vessel begins operations in Europe |
| October 22nd, 2018 | 22.10.18 | The Sogestran Group inaugurates an office in French Guiana |
| October 4th, 2018 | 04.10.18 | The Sogestran Group in video |
| July 3rd, 2018 | 03.07.18 | Intermodal transport within the Group is evolving |
| June 8th, 2018 | 08.06.18 | Nord Ports Shuttle launches a new service |
| May 3rd, 2018 | 03.05.18 | Official inauguration of the scheduled FlexiLoire river service line |
| March 6th, 2018 | 06.03.18 | The Pontias under construction |
| December 8th, 2017 | 08.12.17 | An environmental trophy awarded to CFT for its fluvial fleet |
| October 17th, 2017 | 17.10.17 | Inauguration ceremony of the Mayoury |
| September 29th, 2017 | 29.09.17 | Inauguration of the largest French Roll-on / Roll-off ramp |
| August 8th, 2017 | 08.08.17 | Inland navigation: directly from the ship to the barge |
| July 26th, 2017 | 26.07.17 | Arianespace package transfer |
| June 28th, 2017 | 28.06.17 | Acquisition by Sogestran of Compagnie Maritime Nantaise (MN) |
| June 2nd, 2017 | 02.06.17 | LNG (Liquefied Natural Gas) - The Group innovates for the future |
| April 15th, 2017 | 15.04.17 | Double rotation of transformers, 278 tonnes each |
| October 20th, 2016 | 20.10.16 | Lapresta's first loading at the Total refinery in Antwerp |