Keel laying of 8000 m3 inland LNG bunker barge owned and operated by LNG Shipping, chartered by Shell
March 14th, 2023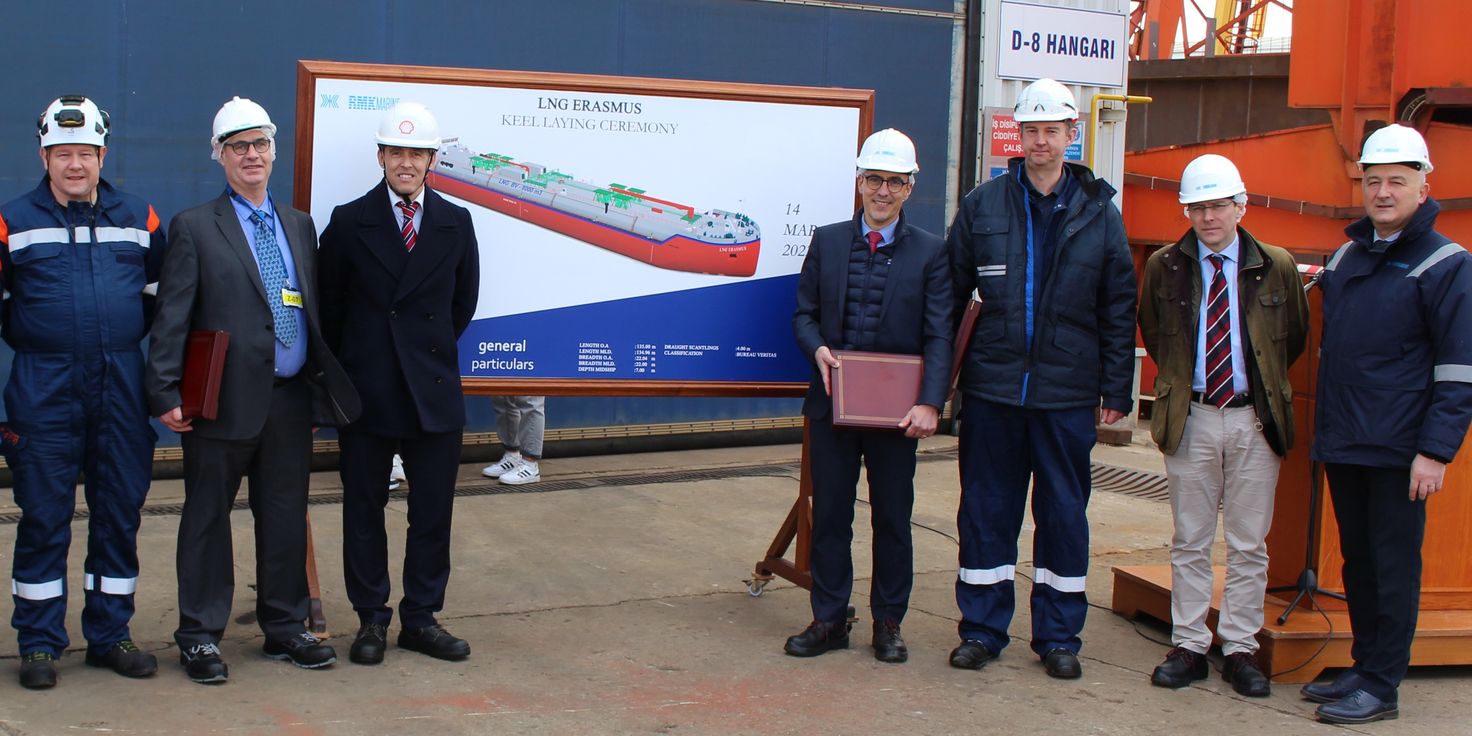 Today, the RMK Shipyard in Tuzla, Turkey, has laid the keel for an 8000 m3 inland waterways liquified natural gas (LNG) bunker barge that is owned and operated by LNG Shipping; a cooperation between Victrol and Sogestran. The barge will be delivered to Shell in Q2 2024, under a long-term time charter, for operations in the ports of Zeebrugge, Antwerp, Rotterdam and Amsterdam (ARA).
Building on the success and experience developed through 3 years safe and successful ship to ship bunkering operations with LNG London - 3000 m3 inland waterways LNG bunker barge, launched July 2019 - Shell and LNG Shipping widen their cooperation with the construction of this second larger capacity vessel.
Tahir Faruqui, head of downstream LNG at Shell, "the new barge further expands Shell's portfolio of LNG Bunker assets in the ARA region, underpinning our expansion plans for Marine LNG and collaboration within the shipping industry to transition to lower-carbon fuels". With this barge, LNG Shipping will further enhance its expertise in safe LNG bunkering activities and in-house technical expertise in both engine and BOG management systems.
RMK Shipyard was selected to construct the barge, Gas&Heat will supply the Tanks and Cargo Handling System and MAN will source the gas engines.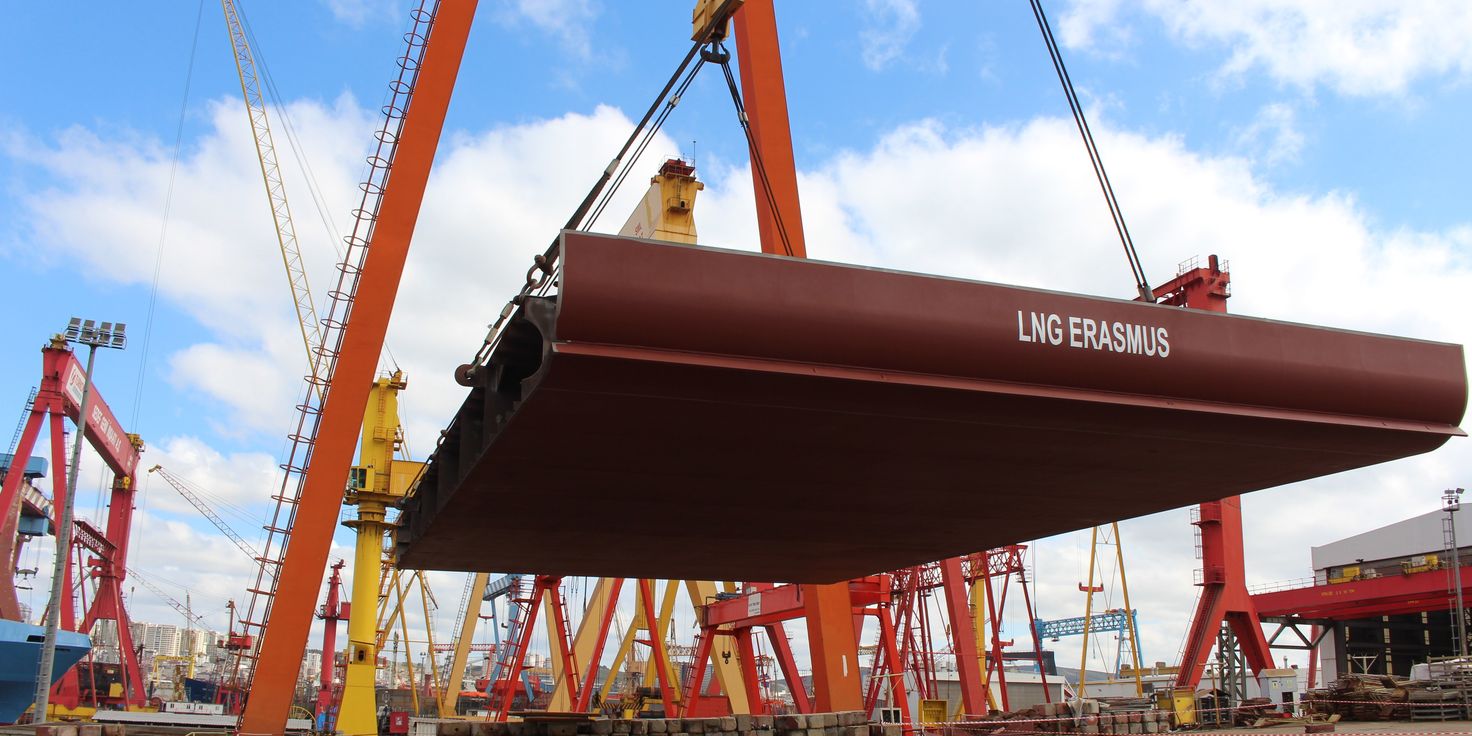 Other news from the group
| | | |
| --- | --- | --- |
| July 11th, 2023 | 11.07.23 | Europe's largest inland waterway LNG bunker barge, owned by LNG Shipping and chartered by Shell, hits the water |
| July 3rd, 2023 | 03.07.23 | Publication of the 2022 CSR report |
| February 2nd, 2023 | 02.02.23 | OCEOS launches its website |
| December 8th, 2022 | 08.12.22 | Transport of two satellite containers by the MN Colibri |
| September 13th, 2022 | 13.09.22 | Air Liquide and Sogestran form the joint venture OCEOS for CO2 shipping and barging |
| September 8th, 2022 | 08.09.22 | Delivery of the POINTE DE CAUX |
| June 20th, 2022 | 20.06.22 | De Poli becomes NAVQUIM under Sogestran management |
| April 5th, 2022 | 05.04.22 | Air Liquide and Sogestran partner to develop shipping solutions for carbon management |
| April 1st, 2022 | 01.04.22 | Launch of the POINTE DE CAUX |
| July 21st, 2021 | 21.07.21 | Jérémie Mion meets the Sogestran group's teams |
| July 15th, 2021 | 15.07.21 | Dubbelman and Sogestran Sign Definitive Acquisition Agreement to Integrate Dubbelman Group in Sogestran Logistics |
| June 23rd, 2021 | 23.06.21 | Sogestran group welcomes Jérémie Mion on board |
| November 26th, 2020 | 26.11.20 | Sogestran invests in the chemical tankers business |
| February 4th, 2020 | 04.02.20 | The Sogestran group and the COMPAGNIE MARITIME NANTAISE - MN associate with NEOLINE. |
| June 24th, 2019 | 24.06.19 | 'LNG London' bunker vessel begins operations in Europe |
| October 22nd, 2018 | 22.10.18 | The Sogestran Group inaugurates an office in French Guiana |
| October 4th, 2018 | 04.10.18 | The Sogestran Group in video |
| July 3rd, 2018 | 03.07.18 | Intermodal transport within the Group is evolving |
| June 8th, 2018 | 08.06.18 | Nord Ports Shuttle launches a new service |
| May 3rd, 2018 | 03.05.18 | Official inauguration of the scheduled FlexiLoire river service line |
| March 6th, 2018 | 06.03.18 | The Pontias under construction |
| December 8th, 2017 | 08.12.17 | An environmental trophy awarded to CFT for its fluvial fleet |
| October 17th, 2017 | 17.10.17 | Inauguration ceremony of the Mayoury |
| September 29th, 2017 | 29.09.17 | Inauguration of the largest French Roll-on / Roll-off ramp |
| August 8th, 2017 | 08.08.17 | Inland navigation: directly from the ship to the barge |
| July 26th, 2017 | 26.07.17 | Arianespace package transfer |
| June 28th, 2017 | 28.06.17 | Acquisition by Sogestran of Compagnie Maritime Nantaise (MN) |
| June 2nd, 2017 | 02.06.17 | LNG (Liquefied Natural Gas) - The Group innovates for the future |
| April 15th, 2017 | 15.04.17 | Double rotation of transformers, 278 tonnes each |
| October 20th, 2016 | 20.10.16 | Lapresta's first loading at the Total refinery in Antwerp |